We had our first course last weekend, and it was a great experience. As one of our students put it: "Thank you for a fantastic course weekend. Lots of love. Can't wait for the sequel. Thank you." We can truly say that we feel the same way.
We met in a small group, and although there were shorter lectures, the course focused mainly on exercising our innate telepathic skills. Just like the course title suggests, "Perceiving and quantifying", the course aimed to give the participants basic skills on how to perceive the world both around and within ourselves. How are my fellow human beings actually doing? And how about myself? My body. And my soul. How can I connect with my body to help it, using my INNATE superpower of telepathy?
When we work on learning and strengthening this skill, there is all sorts of challenges that arise. Most of us will experience some doubt in our own abilities, and there will be situations where we are unable to feel or notice sensations and perception, mainly because of how we are taught from very young that listening to our bodily sensations are of no use. So we block them out. Because skills that we don't need or use, will be gotten rid of. It's just extra weight, and prohibits us from being effective humans.
Until we all of a sudden realize we need a shift of focus, that is. Because we cannot go on living unless we change something fundamental. Luckily, the skill of telepathy is an innate one. All we need is someone to help us revive it. Unlearning a lifetime of teachings and habits takes time and work, but merely the fact that you are reading this now, shows you that you are on your way. Yay!
So, if you want to learn, be open, join our courses, and most importantly; practice. Every day. If you want to start, and haven't attended a course yet, you can watch the video "Telepathic exercise – connecting to your higher self", from our Brighteon channel. It's a great exercise to begin with, as it is very simple, yet very powerful.
Later, we will invite to an other first course, for those of you who didn't make it this first time. We will let you know as soon as we have set the date. If you know already that you want to join, please sign up now using the contact form on our web-page. The direct link is listed below.
Our Sunday workshop will, this week, be for those who attended the course last weekend, so for the rest of you, we will meet again Tuesday. Until then, check out our channel, please share if you find it interesting and helpful, and stay open and loving, first and foremost towards yourselves.
Lovely Sunday to you all!
Ole and Linda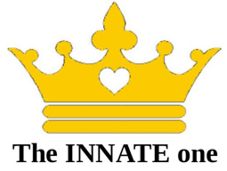 Link to the exercise "Connecting to your higher self": https://www.brighteon.com/90da455e-2816-46a7-a4b0-f7d92e3726de
Sign up for the next course here: https://www.innate.one/contact/
If you want to receive our newsletter directly in your email, please SUBSCRIBE by sending us a message here: https://www.innate.one/contact/